Chiropractor in Bear, DE: Adjusting You Out of Pain
You've just been injured, and the sharp pain is setting in – but don't panic! The folks at Comprehensive Accident and Injury Center got your back, literally. If you're telling yourself, "I'm hurt and I need an affordable chiropractor near me", you're in luck. Whether it's the dull ache from chronic pains or the sharp sting from a recent injury, our team of medical professionals offers quality care in a variety of modalities…all under the same roof.
Our Bear Chiropractic Care Offers Solutions for Conditions That Traditional Medicine Often Disregards
Chiropractic care addresses musculoskeletal issues and pain management in ways that traditional medicine may not fully emphasize. With a focus on spinal health, chiropractors provide non-invasive treatments, such as manual adjustments, offering an alternative to surgery and medications for conditions like back pain and headaches. The holistic approach of chiropractic care considers the interconnectedness of the musculoskeletal system, aiming to address root causes of pain rather than just symptoms.
Modern sedentary lifestyles contribute to posture problems, muscle imbalances, and joint stiffness. Chiropractic care and physical therapy are particularly relevant in this context. They not only help correct existing issues resulting from sedentary habits but also provide preventive measures and patient education on maintaining musculoskeletal health. The individualized treatment plans offered by chiropractors and physical therapists, along with their focus on collaborative, integrative healthcare, contribute to a comprehensive approach that complements traditional medical interventions. Overall, chiropractic care and physical therapy offer valuable solutions in areas where traditional medicine may fall short, especially in the context of our increasingly sedentary lifestyles.
Noticing Pain After An Accident? Chiropractic Therapy May Be What You Need.
One of the options for pain relief that you may or may not have considered is chiropractic. Many people overlook the benefits and the role that chiropractors provide. Yet chiropractors offer millions of people worldwide a non-invasive pain relief and treatment approach that has helped so many.
As a drug-free and non-invasive treatment option, we have helped many patients suffering from personal injury with chiropractic therapy. Therefore, you should consider Comprehensive Accident and Injury as your first stop in your journey toward wellness and health after an accident. Our experts can determine if chiropractic therapy is the right option for your specific condition.
Looking For a Chiropractor in Bear, DE? An Experienced and Trained Chiropractor Such as Those at Comprehensive Accident and Injury Can Help You With:
Back pain
Neck pain
Lumbar and disc issues
Tissue pain such as tendons, muscles, and ligaments
Headaches
Many, many more…
When caught and treated early after an accident, long-lasting and degenerative conditions can be prevented, allowing you to enjoy many more years of good health.
Get an Appointment
Complete the Form Below and We'll Get Back to you Immediately.
Chiropractic Therapy Benefits
You can experience many health benefits when you decide to opt for chiropractic care. Chiropractic treatments are noninvasive, and they generally have minimal side effects and downtime required once the treatment is complete. Not only can proper chiropractic care help you with your back and neck pain, but it can also help you with the following:
Improving blood pressure
Reducing inflammation
Improving scoliosis and sciatica
Enhancing athletic performance
Reducing vertigo
When chiropractic treatment techniques are carried out the right way, you can enjoy the above benefits and more. If you want to experience all the advantages of the ultimate chiropractic technique, visit us at the Comprehensive Accident and Injury Center. Our medical staff is trained in the best chiropractic techniques and can help you get on the road to recovery.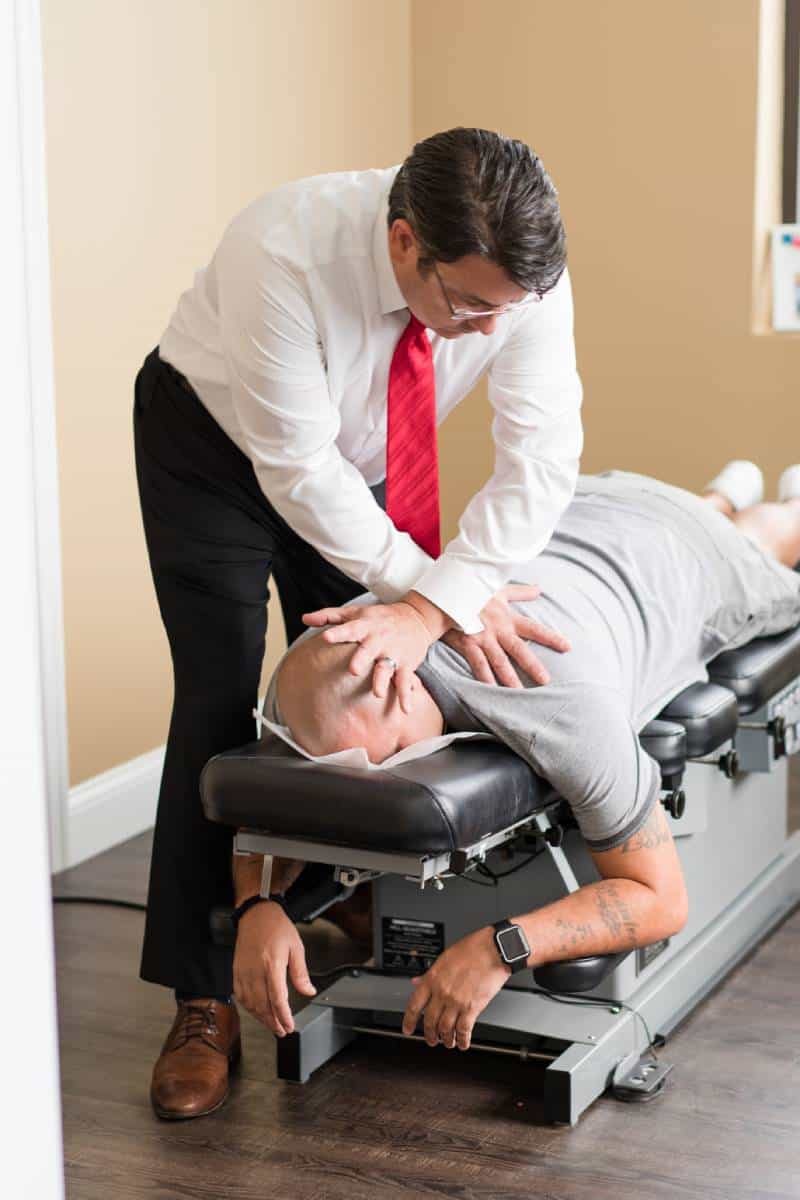 When to See a Chiropractor?
Were you recently injured? Are you experiencing aches and pains that refuse to go away and that are reducing the overall quality of your life? If so, chiropractic care may be able to provide you with the relief and comfort you're craving. Whether you're just suffering from persistent discomfort, or you were injured and want to get screened, you can come into Comprehensive Accident and Injury Center to learn more about our chiropractic therapies and other treatments and see if they are the best fit for you.
 How Often Should You See a Chiropractor?
You should see a chiropractor whenever you feel pain, suffer an injury, or as a preventive measure. When using chiropractic care as a preventive measure, you should see your chiropractor every couple of months for regular adjustments.
What You Can Expect After Visiting Our Walk in Chiropractor in Bear, Delaware
Are you looking for a chiropractor near me? You may experience a range of sensations and outcomes depending on the treatment received and your individual circumstances. Some possible effects may include:
Relief from pain: Chiropractic adjustments can help alleviate pain in various parts of the body, such as the back, neck, shoulders, and hips.
Improved range of motion: Chiropractic adjustments can help improve joint mobility and flexibility, which can lead to an increased range of motion.
Muscle relaxation: Chiropractic adjustments can help relieve tension in the muscles, which can help promote relaxation.
Soreness or discomfort: You may experience some soreness or discomfort after a chiropractic adjustment, especially if it is your first time or if you received a particularly vigorous adjustment.
Fatigue: Some people report feeling tired or fatigued after a chiropractic visit, which may be due to the body's release of toxins and metabolic waste.
How Much Does a Chiropractor Cost Without Insurance?
The exact cost of your treatment will vary based on the severity of your condition and the exact results you're seeking. You may require only a few sessions, or you may require more time, and this will contribute to the total cost. Once you come in and we do an initial consultation, we will be able to give you a quote based on the results of the diagnostics we receive,
In some conditions, you may be able to have the costs of treatment covered through insurance. Contact us today to learn more about our pricing options.
Find Out If You Are A Candidate For Chiropractic Therapy Today
After getting into an accident or suffering an injury in Bear, DE, you need to receive a proper diagnosis and a thorough medical assessment, so you understand what's causing your pain. You also need a medical expert to check up on you because you need to determine how severe your injuries really are. Once your diagnosis is completed, you can start on the best medical treatment plan, so you are able to return to your daily activities as soon as possible.
Our experts are standing by and ready to help you. If you have been in an accident, our chiropractic experts can help you manage your pain non-invasively. To learn more about Comprehensive Accident and Injury's services, contact us today.
Our experts can guide you through the recovery process with as little stress as possible – so you can focus on healing.