Our dentists working to your smile
Walk-In Clinic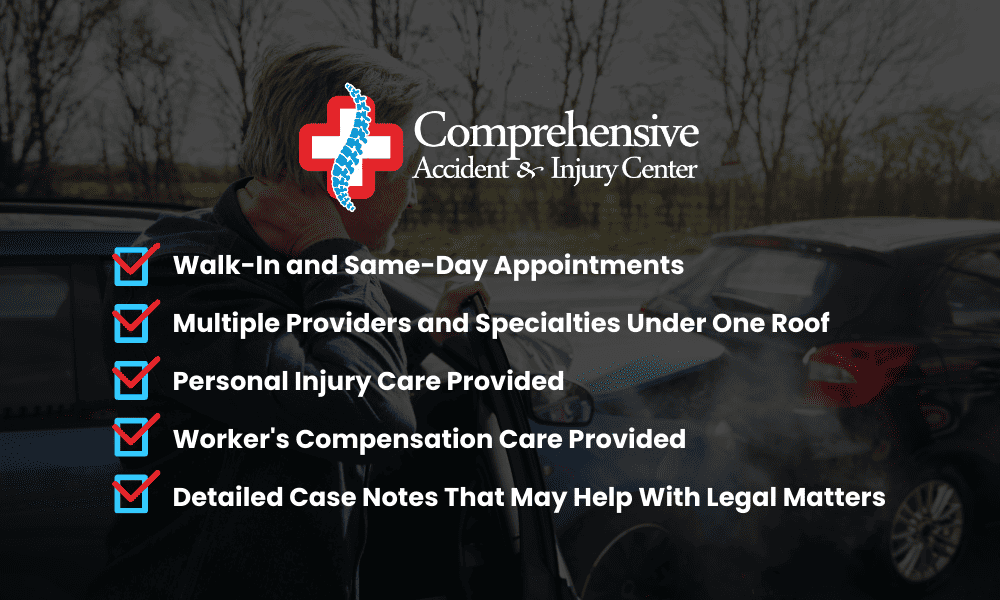 Our Walk-In Clinic in Bear, DE is the Ideal Medical Facility to Help You Recover and Get the Legal Help You Need After an Accident
The personal injuries you suffer after an accident can have devastating effects on your life. If an accident is serious enough, one may end up with permanent disabilities that greatly alter their lifestyle. When you suffer from long term injuries, everything from the career you intend to pursue, to the recreational classes you attended on the weekend, can fall out of your grasp, and this can be very difficult to process.
Your accident injuries don't just affect you on a physical level, but your emotional state is also affected, and of course, your finances as well. At the Comprehensive Accident and Injury Center, we understand how stressful your situation is and we work with you to ensure you get the treatment you need to feel like yourself again while helping you with your legal claims as well in terms of legal documentation and attorney referrals.
Furthermore, it's important to note that after suffering an injury, it's crucial to get evaluated as soon as possible. Many aches and pains tend to show up days or weeks after a severe accident or injury. However, between the time that a person gets checked out and the original date of their injury, it's possible that their injuries might begin worsening. This down time between evaluations and treatment might aggravate your symptoms, or create new injuries due to overcompensation from other parts of the body.
Our job is to get you a comprehensive evaluation as quickly as possible. Our unique practice allows you to consult with multiple specialists under one roof, all in the same appointment! There's no need to wait weeks to get an appointment at multiple providers and specialties, you can get it all done at the Comprehensive Accident and Injury Center.
Visit the Comprehensive Accident and Injury Center Today
There are so many complications and questions that arise after getting into an accident. You may find yourself wondering whether your Personal Injury Protection Coverage will cover your costs, and you may be fearing the severity of your injuries. Our medical staff can give you the answers you need.
It's one thing to get treated by a regular doctor after facing injuries or getting into an accident, and it's another thing entirely to receive comprehensive treatment and advice from medical professionals after being the victim of an accident. At the Comprehensive Accident and Injury Center we provide thorough and customized medical care to all our patients, so you understand the extent of your injuries and you get on the best treatment plan to ensure your quick recovery.
Our team of medical experts understands the importance of giving you a thorough checkup and they are trained in dealing with the medical paperwork so it's easier for you to go forward with filing a claim. Not only do we take care of your health needs so you recover swiftly, but we will also refer you to the best accident lawyers in Bear, DE so it's easier for you to quickly start filing your accident claim.
At Our Walk-in Clinic, We Provide Comprehensive Medical Treatment and Legal Support for Your Accident Injury
Since most individuals who get into an accident often file a legal personal injury or accident claim, we also assist with the legal process wherever we can by connecting you with attorneys who have your best interests and health in mind. Additionally, we promptly provide you with the legal documentation you need to prove you received medical treatment for your injuries and to prove how serious your situation is.
The legal professionals in our network can assist you with :
We work with our legal professionals closely to evaluate your condition and manage your care in a thorough and efficacious manner.
Accidents can occur at your workplace or even at home, but with nearly 17,250 car accidents occurring on the road daily across the United States, it becomes integral for drivers and passengers alike to know where they can receive proper treatment for their injuries, so they don't end up making their health condition worse than it already is after a serious accident occurs.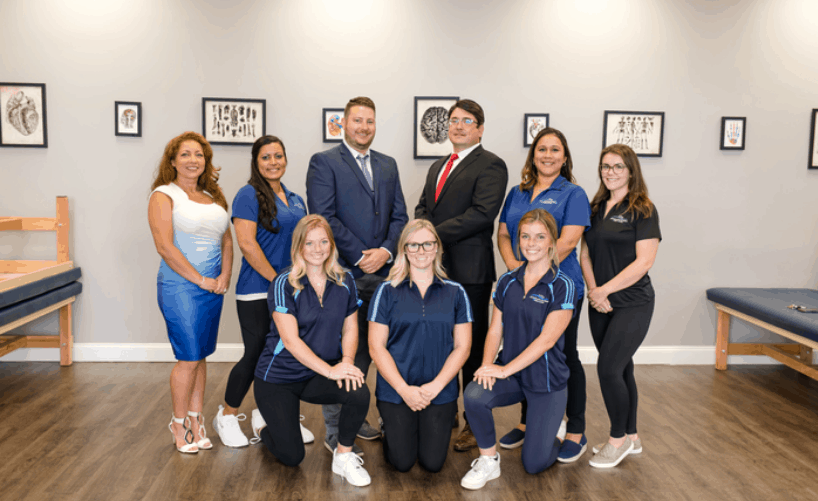 Visit Our Walk-In Clinic Today
Get in touch with one of our medical specialists at our walk-in clinic today to get the care and treatment you need to recover from your accident injury. The last thing any victim of an accident needs is to worry about the legalities of their situation along with trying to deal with the physical and emotional pain they're suffering.
At the Comprehensive Accident and Injury Center, we understand your situation entirely and we use our best resources to ensure you're treated properly and to ensure you have the legal references and documentation you need to win your case.
Reach out to a medical expert at the Comprehensive Accident and Injury Center today so you can start focusing on your recovery while we take care of the rest.