Neuropathy Treatment Center in Delaware
Did you know that more than a quarter of Americans suffer from neuropathy? Neuropathy is a medical condition that occurs when one or multiple nerves in your peripheral nervous system are damaged. The nerve damage usually occurs in your hands and feet and can make it hard for you to carry out even the most basic daily tasks. Continue reading to learn more about how we provide relief at our neuropathy treatment center in Delaware
If you're suffering from neuropathy and want to enjoy a life without pain once more, regenerative therapies are a viable option to help you start on your road to recovery.
What Are the Symptoms of Neuropathy?
The nerve damage caused by neuropathy is painful and comes with many other associated symptoms.
The trademark symptoms of this disease are muscle pain and numbness.
Other symptoms of neuropathy include:
Chronic inflammation
Chronic irritation
Exhaustion
Weakness
Tingling
The symptoms of neuropathy can be mild or strong based on the severity of your nerve damage. In mild cases, you will experience pins and needles and tingling, whereas in more severe cases you will feel intense and sharp pain. Our neuropathy doctors can assess your symptoms and determine a course of action to alleviate the condition.
Get an Appointment
Complete the Form Below and We'll Get Back to you Immediately.
Connecting with a Neuropathic Pain Specialist Near Me
If you're experiencing any of these symptoms, you need to see a neuropathy doctor as soon as possible. Our doctors at Comprehensive Accident and Injury Center will give you a detailed checkup to help determine the cause of your symptoms. Once the reason for your pain is clear, they will create a medical recovery plan that is suited to your own personal needs, with your personal medical history in mind.
A viable neuropathy recovery option that we offer is regenerative medicine.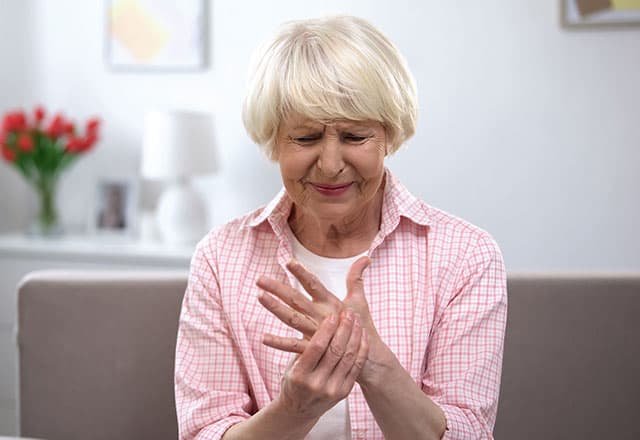 Research Shows that Regenerative Medicine Relieves Neuropathic Pain
A 2020 research review revealed that regenerative therapy is an effective intervention for neuropathy, as it helps relieve neuropathic pain. Regenerative techniques are so effective at helping neuropathy patients alleviate their discomfort because these therapies work by repairing the damaged nerve tissue and clearing any inflammation.
The Top 3 Benefits of Regenerative Medicine for Neuropathy Patients
Regenerative medicine shows significant promise in helping patients with neuropathy recover and improve their overall quality of life. Through regenerative medical techniques, you can enjoy improved mobility, energy, and optimism for the future once again.
The top 3 benefits of regenerative medicine for neuropathy patients are:
1. Targets the Root Cause
Unlike other medical procedures, regenerative techniques don't just focus on treating your symptoms superficially. When you opt for regenerative medicine, you give your body a chance to heal the root cause of your pain and suffering. Regenerative medicine focuses on repairing the damaged nerves in your body and not just giving you a temporary bandaid solution, so you can enjoy a longer period of good health
2. Reduces Pain and Inflammation
Regenerative techniques help reduce both the pain and inflammation your neuropathy causes. Regenerative medicine utilizes strong neurotrophic factors that help regenerate your damaged nerve tissue so inflammation and pain are both reduced.
3. Minimally Invasive
Unlike the heavy medications and mainstream medical treatments offered for neuropathy, regenerative medicine is minimally invasive. This means that your body gets a chance to heal itself without excessive outside intervention when you opt for regenerative neuropathy therapies.
Call Us Today to Get in Touch with a Neuropathic Doctor and Start Your Neuropathy Therapy in Delaware
It can be very difficult to live with the weakness and pain that neuropathy causes. The good news is, that you can now opt for regenerative therapies for effective pain relief that gets to the root cause of your health complications.
At Comprehensive Accident and Injury Center, our team of doctors will assess you and offer you the highest quality medical care. Our regenerative therapies are based on advanced scientific research and we ensure to give each patient personalized care based on their specific needs and situation.
Contact us today to learn more about our regenerative therapies for neuropathy.