Our Ocular Concussion Treatments in Delaware
What You Need to Know
Have you ever experienced a concussion or suspected that you may have a concussion? If so, then you should know that there are treatments available for those suffering from the ocular effects of a concussion. We will discuss our ocular concussion treatments in Delaware and how it can help those suffering from the after-effects of a concussion. If you're looking for ocular therapy, keep in mind that Comprehensive Accident and Injury Center is home to passionate, trained professionals who are standing by to assist you.
Eye Exams and Ocular Therapy in Bear, DE
Are you looking for a routine eye exam? We can help there, too! Visual disability is one of the top 10 disabilities adults experience across the United States. Our eyes are strained constantly throughout the day due to excessive exposure to screens and other stimuli—this often results in visual complications. If your eyes are left unchecked, there's always a significant chance your vision will get worse so you should make it a point to come in for an eye exam at Comprehensive Accident and Injury Center to keep your vision healthy.
When Should I Come in for an Eye Exam in Bear, DE?
Coming in for annual eye-exam checkups is a great way to ensure your vision remains healthy and also prevent your eyesight from deteriorating unexpectedly. Apart from coming in for regular check-ups, you should also make an appointment with our eye doctors when you find you're experiencing any of the following symptoms:
Light sensitivity
Motion sickness
Double vision
Dizziness
Fatigue
Blurred vision
Headaches
Reading difficulties
Eye strain
If you're experiencing any of the above symptoms, you're likely suffering from an underlying issue with your vision and our eye doctor can take a look and give you the required diagnosis and treatment after a thorough eye exam, so you feel like your healthy self again.
Get an Appointment
Complete the Form Below and We'll Get Back to you Immediately.
What Can I Expect During an Eye Exam?
When you come inside our clinic, our eye doctors will give you a full eye health exam alongside orthoptic assessments. The purpose of these ocular tests is to determine if your eyes are working properly, and to target any underlying issues.
A thorough eye exam can help us assess any visual dysfunctions you may be suffering, including:
Binocularity or how well your eyes work together
The cause of your inability to read clearly
Alignment of your eyes
The functionality of your vision including eye movement, eye focusing, and eye teaming
Once the cause of your discomfort is determined, our doctors will get you on the best ocular therapy and vision treatment plan personalized for your specific needs.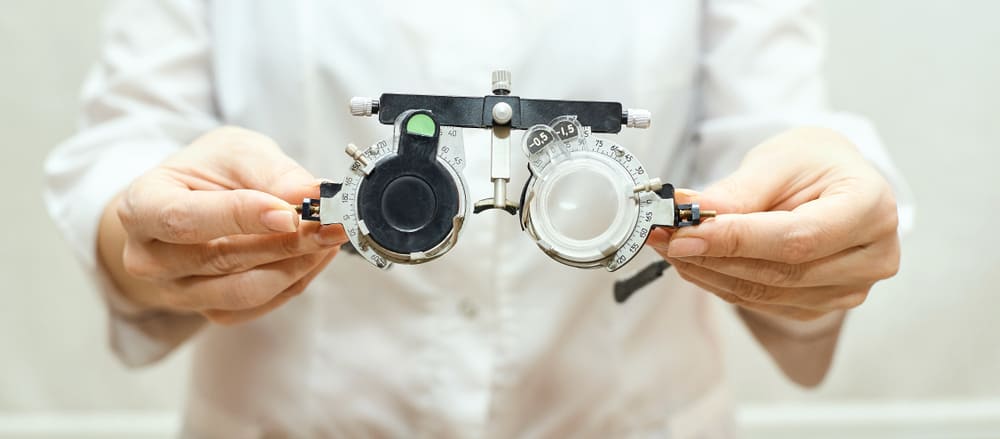 What Is Ocular Concussion Treatment?
Ocular concussion treatment is an approach to treating the visual symptoms caused by a traumatic brain injury, often referred to as a concussion. This type of treatment typically focuses on evaluating and managing the eye-related problems associated with concussions such as blurred vision, double vision, light sensitivity, and difficulty focusing. It also includes addressing any balance issues that may arise due to concussion-related head trauma.
When Should I Seek Ocular Concussion Treatment?
If you have suffered from a mild traumatic brain injury or have experienced any signs of ocular vertigo (a spinning sensation in your eyes), then it's important to seek out professional help right away. Seeing an ophthalmologist or neuro-ophthalmologist at Comprehensive Accident and Injury Center in Delaware can help diagnose and treat these issues before they become more severe. Common ocular vertigo treatments include medication to reduce dizziness, eye exercises to improve vision, and vestibular rehabilitation therapy (VRT) which helps retrain the brain how to control balance.
Suffering From Visual Vertigo? We Provide Ocular Vertigo Treatments, Too
Visual vertigo is a disorder that is caused by a disruption in the vestibular system, which controls balance and coordination. It can affect your daily activities by causing headaches, dizziness, nausea, and difficulty with focusing. Visual vertigo is often caused by head trauma or other health conditions such as inflammation of the inner ear.
We understand that when it comes to the effects of vertigo on vision, it can be difficult and debilitating. That's why our team of exceptionally qualified optometrists has specialized training and experience in diagnosing ocular vertigo issues, addressing any underlying vision problems, and providing treatments that can help reduce the symptoms of vertigo. We also provide comprehensive vision therapy services to help retrain the brain how to interpret visual information accurately. These therapies are designed to help improve visual skills such as tracking, focusing, and integration of both eyes.
Call Today and Benefit from Our Individualized Vision Rehabilitation Program
Whether you're suffering from lazy-eye or from a consistent eye tracking problem, our team of medical experts can help you recover and get your vision back to good health through our ocular therapy program.
At Comprehensive Accident and Injury Center, we prioritize your convenience above everything else. We strive to provide all our patients with high quality medical care while ensuring the assessment and treatment process is as easy as possible. We offer diagnostic testing and access to multiple medical professionals all under one roof, so you don't have to waste time commuting from one clinic to the next during the course of your therapy.
Call us today to learn more about the visual therapy plans we offer.